€30m Zeiss Innovation Hub to unite science and industry
Zeiss is constructing a new innovation hub at the Karlsruhe Institute of Technology (KIT), which will host companies such as Nanoscribe as well as high-tech and digital start-ups, to promote sronger links between industry and science.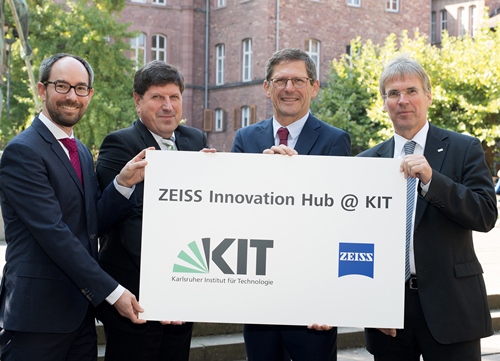 From left to right: Martin Hermatschweiler, CEO Nanoscribe, Prof Thomas Hirth, VP of Innovation and International Affairs at KIT, Prof Michael Kaschke, president and CEO of Carl Zeiss, Prof Holger Hanselka, President of KIT (Credit: Zeiss)
The construction of the €30 million, 12,000m2 Zeiss Innovation Hub is scheduled to begin in early 2018 and to be operational by the end of 2019. The new building will encompass modern offices, labs and production areas for several young companies as well as Nanoscribe, KIT and Zeiss.  
Martin Hermatschweiler, CEO of Nanoscribe, is convinced that 'this ensemble of an inspiring architecture, the close links to KIT and networking opportunities within the hub will further foster our innovation culture.' He is looking forward to have all departments of the company – right now split up in different locations – re-united upon the completion of the hub.
KIT aims to use the hub to provide long-term prospects for carve-outs at the site, as it has maxed out all available space. At the Zeiss Innovation Hub, KIT will be able to lease a portion of the space for its own carve-outs and innovation activities. 
The Karlsruhe Institute of Technology is home to Optics Students Karlsruhe, a student organisation promoting optics within university and the general public. Read an article by its president, Orlando Torres Perales, on how the association is helping to encourage young people into the optics field.